Descriptions
Kue Tart 2 Susun dengan Tema Under The Sea (Bawah Laut)
Dilapisi  Fondant Icing Karakter Laut
Menggunakan Cokelat Impor dari Australia dan Butter Berkualitas Tinggi dari New Zealand
Tekstur Kue yang Lembut dan Menggiurkan
Free Pisau Kue dan Lilin (2 pcs)
Free Custom Ucapan (max 25 huruf)
Cocok Dihidangkan Saat Pesta Ulang Tahun
Specifications
Kue Tart 2 Susun dengan Tema Under The Sea (Bawah Laut)
Dilapisi  Fondant Icing Karakter Laut
Menggunakan Cokelat Impor dari Australia dan Butter Berkualitas Tinggi dari New Zealand
Tekstur Kue yang Lembut dan Menggiurkan
Free Pisau Kue dan Lilin (2 pcs)
Free Custom Ucapan (max 25 huruf)
Cocok Dihidangkan Saat Pesta Ulang Tahun
** Pemesanan dapat dilakukan 2 hari sebelum tanggal pengiriman dan order Anda akan diproses setelah Tim FAVO melakukan verifikasi pembayaran.
Rayakan hari spesial saudara, teman, juga kerabat Anda dengan 3D Under The Sea Cake. Desain kue yang unik dan cantik terinspirasi dari film animasi, Nemo, membuat kue ini akan disenangi dan dicari saat pesta berlangsung.

Under The Sea Cake juga akan meninggalkan rasa kelezatan yang tiada dua karena terbuat dari gabungan coklat lezat yang diimpor dari Australia dan butter yang berkualitas tinggi. Kue ini menggunakan fondant icing dan bertahan lebih lama karena terbuat dari bahan-bahan berkualitas. Pastikan Anda mencoba dan memeriahkan hari ulang tahun dengan 3D Under The Sea Cake!
| | |
| --- | --- |
| SKU | ASMKUE1138 |
| Ukuran Kue | Diameter 20 |
| Tipe Kue | 2 Susun |
Outerbloom Cake Lainnya :
Anda Juga Akan Menyukai: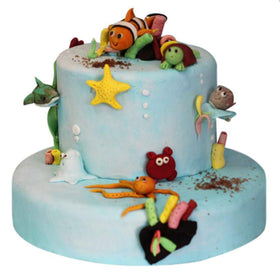 Under The Sea Cake
Harga

Rp 794.000

Rp 665.000

16% OFF