Descriptions
Papan Bunga untuk Ucapan Selamat Menikah
Desain Papan dengan Rangkaian Bunga Suyok
Terbuat dari Styrofoam, Busa dan Rangka Penyangga yang Kuat
Ukuran

2

25

 cm x 1

40 

cm

Bisa Custom untuk Penulisan Nama dan Ucapan
Specifications
Papan Bunga untuk Ucapan Selamat Menikah
Desain Papan dengan Rangkaian Bunga Suyok
Terbuat dari Styrofoam, Busa dan Rangka Penyangga yang Kuat
Ukuran

2

25

 cm x 1

40 

cm

Bisa Custom untuk Penulisan Nama dan Ucapan
Be With You adalah papan bunga yang mengartikan ucapan selamat menikah atau happy wedding. Pemberian karangan bunga papan ini dapat dijadikan sebagai suatu ketulusan untuk ikut serta dalam kebahagiaan yang baru saja dirasakan oleh kerabat atau rekan Anda.
Tersedia dalam ukuran 225 cm x 140 cm. Hadir dengan varian rangkaian bunga fresh, bunga suyok artificial, dan list dedaunan yang menghiasi papan bunga. Papan bungga ini dilengkapi dengan list busa dan rangka penyangga yang kuat.
Papan bunga Be With You akan membuat acara semakin meriah. Tunjukkan kerabat dan rekan Anda dengan memberikan Papan bunga  Be With You di momen kebahagiaan mereka. 
Note : Tuliskan pesan Anda di kolom "Special instructions for seller", dan Lakukan pemesanan dan pembayaran 2 hari sebelum pengiriman.
Tentang Outerbloom Florist

Salah satu toko bunga Jakarta yang terkenal dengan keindahan rangkaian bunga dan juga kualitas bunganya. Outerbloom Florist menjual bunga dengan kualitas impor sehingga keawetannya lebih terjaga. Outerbloom Florist mengerti kebutuhan Anda akan pentingnya bunga dalam setiap acara spesial atau kesempatan yang berbahagia bersama orang tercinta. Outerbloom Florist menyediakan berbagai rangkaian bunga untuk memenuhi kebutuhan Anda yang sangat peduli pada orang-orang tercinta.
| | |
| --- | --- |
| SKU | SBYWED1020 |
| Ukuran | 225 cm x 140 cm |
| Untuk Ucapan | Wedding (Pernikahan) |
| Area Pengiriman | Surabaya dan Malang |
Outerbloom Florist Lainnya :
Anda Juga Akan Menyukai: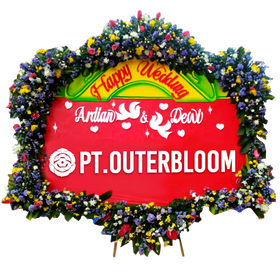 To Infinity And Beyond Jawa Timur
Harga

Rp 3.900.000

Rp 2.500.000

35% OFF