Descriptions
Buket Bunga Meja Spesial

Kombinasi Mawar Merah dan Anggrek Putih

Dipercantik dengan Daun Segar

Dirangkai dalam Vas Eksklusif yang Cantik
Melambangkan Kemurnian Cinta
Pilihan Tepat untuk Dipersembahkan di Hari Spesial Bersama Orang Tercinta
Specifications
Buket Bunga Meja Spesial

Kombinasi Mawar Merah dan Anggrek Putih

Dipercantik dengan Daun Segar

Dirangkai dalam Vas Eksklusif yang Cantik
Melambangkan Kemurnian Cinta
Pilihan Tepat untuk Dipersembahkan di Hari Spesial Bersama Orang Tercinta
Tanamkan bibit cinta dalam buket bunga The Sovereign in Vase. Kombinasi 40 tangkai mawar merah dan 3 tangkai anggrek putih. Dipercantik dengan dedaunan pendukung yang segar. Dirangkai dalam vas keramik putih yang eksklusif. Tunjukkan rasa cinta Anda dengan The Sovereign in Vase kepada orang Anda cintai dan jadikan berbagai momen spesial Anda begitu memorabel serta penuh cinta.
Tentang Outerbloom Florist
Outerbloom Florist adalah toko bunga yang didistribusikan oleh Outerbloom. Outerbloom Florist menyajikan bunga-bunga pilihan sehingga mampu membantu menyampaikan pesan yang tersirat di dalam setiap tangkainya. 
SKU
OBVBUN1767
Isi

Red Roses

White Orchid
Outerbloom Florist Lainnya :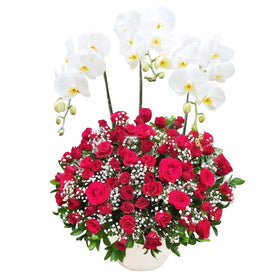 The Sovereign in Vase
Harga

Rp 3.725.000

Rp 2.795.000

24% OFF