Descriptions
Cita Rasa Cokelat Asli
Desain Kemasan Eye Catching 
Dapat Dijadikan Sebagai Hadiah
Isi: 9 buah @ 5x5 cm
Specifications
Cita Rasa Cokelat Asli
Desain Kemasan Eye Catching 
Dapat Dijadikan Sebagai Hadiah
Isi: 9 buah @ 5x5 cm
Cita rasa cokelat asli di dalam Outerbloom Letter Box Chocolate I Love You 3x3 akan memberikan rasa manis yang pas saat bersentuhan dengan lidah Anda. Cokelat yang hadir dengan kemasan menarik ini dapat Anda konsumsi sebagai camilan atau pun sebagai hadiah untuk orang terdekat di hari spesial.
Tentang Letter Box Chocolate
Letter Box Chocolate hadir dengan konsep terbaru, menjadikan cokelat sebagai hadiah untuk orang terdekat. 
Outerbloom Lainnya :
Customer Reviews
Write a Review
Ask a Question
01 Jul 2020
being pampered & flattered by outerbloom
pelayanan cepat, respon cs nya juga bagus, hari yang sama pesan bisa langsung diantar sore nya. bagus ada kartunya, service memuaskan. yg dpt bunga pun juga sangat senang sekali. thanks outerbloom.
Juliana W.

Indonesia
16 Feb 2020
Letter Box - Classic Fiery Red
Seperti biasa. Order bunga dari Outerbloom sangat gampang, simple, cepat, dan pengiriman juga tepat waktu. Pastinya produknya juga memuaskan. Pokonya kl perlu pesan bunga dari Outerbloom aja deh. Keep up the good work!
Wiratama S.

Indonesia
14 Jan 2020
Pesanan Bagus
Pelayanan cepat dan pertanyaan saya ditanggapi sehingga barang pesanan yang saya minta bisa dikirim dengan baik dan cepat. Barang pesanan juga bagus kualitasnya
Nico O.

Indonesia
06 Jan 2020
Red & White Rose
Bagus, ini kado bwt mami. & dy suka. thank you outerbloom
Grace N.

Indonesia
16 Nov 2018
Service Amat Memuaskan
Penghantaran tepat pada waktu. Delivery boy telefon dulu pada penerima untuk set masa. Hadiah nya kemas. Terima kasih Outerbloom!!
NG
Nazim G.
23 Jul 2018
Fantastic
Baru pertama kali nyoba, prosesnya gampang padahal blm daftar. Pas daftar juga cepet. Pesen jam 3 minta d anter sblm jam 5, barang uda sampe sblm jam 5. Upload bukti pembayaran juga gampang. Barangnya real picture, sama bgt sama yg d foto. Jadi kesimpulannya saya gak salah order disini. Thanks outerbloom
26 Jun 2020
Smooth and fast
Experience pemesanannya sangat smooth dan cepat. Pengantarannya juga sangat tepat waktu
Christianto K.

Indonesia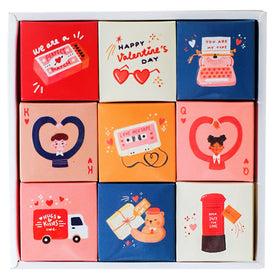 Outerbloom Letter Box Chocolate I Love You 3x3
Harga

Rp 200.000

Rp 170.000

15% OFF