Descriptions
Special Hampers for Your Loved Ones
Consists of Medium Lasagna and Small Tiramisu
Lasagna is Made of Beef Fennel Sausage and Bianco Sauce
Tiramisu is Made of Mascarpone Cheese Filling, Layered with Lady Fingers Soaked in Special Oma Elly's Espresso Blend and Kahlua
Made with The Best Quality of Premium Ingredients
Delightful Texture That Melts in Your Mouth
Only for Delivery within Jadetabek Area
Specifications
Special Hampers for Your Loved Ones
Consists of Medium Lasagna and Small Tiramisu
Lasagna is Made of Beef Fennel Sausage and Bianco Sauce
Tiramisu is Made of Mascarpone Cheese Filling, Layered with Lady Fingers Soaked in Special Oma Elly's Espresso Blend and Kahlua
Made with The Best Quality of Premium Ingredients
Delightful Texture That Melts in Your Mouth
Only for Delivery within Jadetabek Area
Celebrate any special moment with Oma Elly Family Hampers. Try the best ever Lasagna recipe, a perfect combination of beef fennel sausage and bianco sauce and pamper your tastebuds with Oma Elly Tiramisu, a heavenly blend of mascarpone cheese filling, layered with lady fingers soaked in special Oma Elly's Espresso blend and Kahlua. Experience the delicate flavor and delightful texture that melts in your mouth!
Storage & Care
Please refrigerate immediately upon receipt. Oma Elly Lasagna and Tiramisu will stay fresh under refrigeration for 3 to 4 days.
Recommended portions for each size:
| | |
| --- | --- |
| Medium Lasagna (20x20 cm) | 6 - 8 slices |
| Small Tiramisu (10x20 cm) | 4 - 6 slices |
Oma Elly Lainnya :
Anda Juga Akan Menyukai:
Customer Reviews
Write a Review
Ask a Question
20 Feb 2021
My friend loves oma elly lasagna cake
Kata temenku ini enak. Jd dia suka sekali. Makasih oma elly
Yenni S.

Indonesia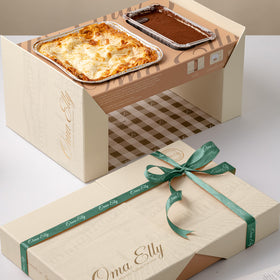 Oma Elly Family Hampers
Harga

Rp 985.000

Rp 945.000

4% OFF