Descriptions
Desain Tali Gelang Anyaman
Dibuat dari Material Nylon
Tersedia dalam Ukuran Panjang Tali Gelang 17 cm sebelum Dibuka
Sangat Cocok untuk Berbagai Perayaan, seperti Hari Ulang Tahun, Valentine, Anniversary, dan Lain Sebagainya
Dapat Custom Foto: Dicetak Menggunakan Thermal Printing dengan Tinta Premium
Sistem Pemesanan Pre Order (PO) selama 1-3 Hari Kerja
Specifications
Desain Tali Gelang Anyaman
Dibuat dari Material Nylon
Tersedia dalam Ukuran Panjang Tali Gelang 17 cm sebelum Dibuka
Sangat Cocok untuk Berbagai Perayaan, seperti Hari Ulang Tahun, Valentine, Anniversary, dan Lain Sebagainya
Dapat Custom Foto: Dicetak Menggunakan Thermal Printing dengan Tinta Premium
Sistem Pemesanan Pre Order (PO) selama 1-3 Hari Kerja
Sempurnakan hari yang spesial dengan hadiah koleksi gelang ?Custom Rope Bracelet?. Desain tali gelang anyaman yang dapat dilepas menjadi beberapa tali panjang; setelah dipakai, gelang dapat dianyam kembali yang membentuk gelang. Dibuat dari material nylon. Tersedia dalam ukuran panjang tali gelang 17 cm sebelum dibuka. Anda dapat mengabadikan momen bersama pasangan, teman atau sahabat dengan mengunggah foto di atas. Custom foto dicetak menggunakan thermal printing dengan tinta premium untuk warna foto yang tidak pudar dalam jangka waktu yang lama. Sistem pemesanan pre order (PO) selama 1-3 hari kerja yang bergantung pada antrean. Sangat cocok untuk berbagai perayaan, seperti hari ulang tahun, Valentine, anniversary, dan lain sebagainya.

Tentang The First
The First adalah merek produk fesyen dan kado yang memiliki desain menarik. Kini, didistribusikan oleh Outerbloom dengan beragam pilihan produk lainnya.
SKU
THFGIF2726
THFGIF2727

Material
Nylon
Warna
Orange
Army Green
Ukuran
Panjang tali gelang 17 cm sebelum dibuka.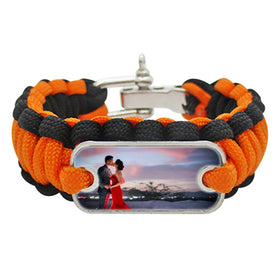 Custom Rope Bracelet
Harga

Rp 350.000

Rp 245.000

30% OFF