Specifications
3D Painting Mug

Berbahan Keramik Berkualitas

Dengan Lukisan yang Dapat Didesain Sesuka Hati

Karakter akan Dilukis Menggunakan Gaya Kartun, Bagian Wajah Dibentuk Tiga Dimensi

Cocok sebagai Kado yang Berkesan bagi Orang Terkasih

Proses Pembuatan selama 3-5 Hari Kerja

Tak perlu bingung lagi menentukan kado yang berkesan bagi orang terkasih Anda. Sempurnakan perayaan spesial apa pun dengan memberikan Custom 3D Painting Mug dari Outerbloom sebagai salah satu pilihan yang tepat. Sebuah mug berbahan keramik berkualitas dengan lukisan yang dapat didesain sesuka hati*, membuat kado ini menjadi jauh lebih personal. Abadikan momen Anda bersama orang terkasih, cukup kirimkan gambar atau foto yang diinginkan (orang terkasih, hewan peliharaan, tokoh idola, dll.). Karakter akan dilukis menggunakan gaya kartun pada permukaan mug, bagian wajah dibentuk tiga dimensi.
Catatan Khusus

*Harga tertera untuk 1 mug dengan 1 karakter. Bagian yang dibentuk 3D hanya wajah saja. Jika ingin tambahan ornamen 3D, akan ada fee tambahan. 
Tentang The First

The First adalah merek produk fesyen dan kado yang memiliki desain menarik. Kini, didistribusikan oleh Outerbloom dengan beragam produk pilihan lainnya.

SKU

 

THFGIF2652

Bahan

Keramik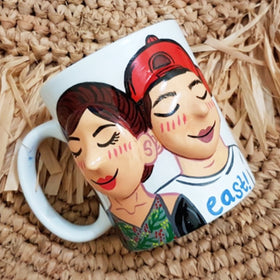 Custom 3D Painting Mug
Harga

Rp 354.000

Rp 345.000

2% OFF