Descriptions
Rangkaian Bunga Mawar Kertas Berbentuk Boneka Hewan
Tersedia dalam Tiga Pilihan Bentuk: Beruang/Kelinci/Puppy dan Tiga Pilihan Ukuran: Kecil ± 16 cm/Medium ± 24 cm/Besar ± 35 cm
Dilengkapi dengan Kartu Ucapan
Dikemas dalam Kotak Premium yang Dihias dengan Pita
Hadiah Terbaik bagi Pasangan, Sahabat, atau pun Keluarga
Cocok untuk Berbagai Perayaan, seperti Hari Ulang Tahun, Anniversary, Valentine, dan Wisuda
Dapat Custom Warna Bunga Mawar Kertas, Inisial Nama/Foto Berbentuk Hati, Hiasan, dan Teks di Kartu Ucapan
Specifications
Rangkaian Bunga Mawar Kertas Berbentuk Boneka Hewan
Tersedia dalam Tiga Pilihan Bentuk: Beruang/Kelinci/Puppy dan Tiga Pilihan Ukuran: Kecil ± 16 cm/Medium ± 24 cm/Besar ± 35 cm
Dilengkapi dengan Kartu Ucapan
Dikemas dalam Kotak Premium yang Dihias dengan Pita
Hadiah Terbaik bagi Pasangan, Sahabat, atau pun Keluarga
Cocok untuk Berbagai Perayaan, seperti Hari Ulang Tahun, Anniversary, Valentine, dan Wisuda
Dapat Custom Warna Bunga Mawar Kertas, Inisial Nama/Foto Berbentuk Hati, Hiasan, dan Teks di Kartu Ucapan
Sempurnakan hari spesial orang terkasih dengan koleksi hadiah "Custom Rose Doll" yang unik dan personal. Rangkaian bunga mawar kertas berbentuk boneka hewan yang indah. Anda dapat mengabadikan momen spesial bersama orang terkasih hanya dengan memilih custom foto berbentuk hati yang membuat hadiah ini semakin berkesan dan tak terlupakan bagi penerimanya. Tersedia dalam tiga pilihan bentuk: beruang/kelinci/puppy; dan tiga pilihan ukuran: kecil ± 16 cm/medium ± 24 cm/besar ± 35 cm. Dilengkapi dengan kartu ucapan untuk menyampaikan pesan. Dikemas dalam kotak premium yang dihias dengan pita. Cocok untuk berbagai perayaan, seperti hari ulang tahun, anniversary, Valentine, dan wisuda yang membawa kebahagiaan.

Catatan
Dapat custom

Warna bunga mawar kertas.
Inisial nama/foto berbentuk hati (opsional).
Hiasan: pita/toga wisuda/lampu* (opsional).
Teks di kartu ucapan.
*Terdapat biaya tambahan untuk hiasan lampu.

Tentang The First

The First adalah merek produk fesyen dan kado yang memiliki desain menarik. Kini, didistribusikan oleh Outerbloom dengan beragam produk pilihan lainnya.
SKU
THFGIF2761
THFGIF2762
THFGIF2763

Bentuk
Beruang/Kelinci/Puppy
Ukuran
Kecil ± 16 cm/Medium ± 24 cm/Besar ± 35 cm
Anda Juga Akan Menyukai: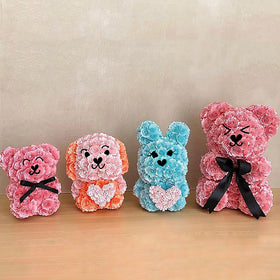 Custom Rose Doll
Harga

Rp 860.000

Rp 645.000

35% OFF