Descriptions
Papan Bunga Untuk Ucapan Selamat
Ukuran 200 cm x 125 cm
Desain Terbaik dengan Rangkaian Bunga Fresh dan Bunga Suyok
Terbuat dari Styrofoam dan Rangka Penyangga yang Kuat
Bisa Custom Untuk Penulisan Nama dan Ucapan
Specifications
Papan Bunga Untuk Ucapan Selamat
Ukuran 200 cm x 125 cm
Desain Terbaik dengan Rangkaian Bunga Fresh dan Bunga Suyok
Terbuat dari Styrofoam dan Rangka Penyangga yang Kuat
Bisa Custom Untuk Penulisan Nama dan Ucapan
Spirit Of Eminance adalah papan bunga yang mengartikan ucapan selamat. Karangan Bunga Papan ini cocok diberikan kepada kerabat atau rekan terdekat Anda yang sedang mengadakan acara ataupun peresmian gedung. Tersedia dalam ukuran 200 cm x 125 cm. Hadir dengan varian rangkaian bunga fresh yang terletak di dua titik (atas dan bawah) papan bunga. Dihiasi dengan bunga suyok artificial (bunga plastik) cantik dan berkualitas di bagian pinggir papan bunga Spirit Of Eminance serta rangka penyangga yang kuat.
Note : Tuliskan pesan Anda di kolom "Special instructions for seller", dan Lakukan pemesanan dan pembayaran 2 hari sebelum pengiriman.
Tentang Outerbloom Florist

Salah satu toko bunga Jakarta yang terkenal dengan keindahan rangkaian bunga dan juga kualitas bunganya. Outerbloom Florist menjual bunga dengan kualitas impor sehingga keawetannya lebih terjaga. Outerbloom Florist mengerti kebutuhan Anda akan pentingnya bunga dalam setiap acara spesial atau kesempatan yang berbahagia bersama orang tercinta. Outerbloom Florist menyediakan berbagai rangkaian bunga untuk memenuhi kebutuhan Anda yang sangat peduli pada orang-orang tercinta.
SKU
BDGCON1006
Ukuran
200 cm x 125 cm
Untuk Ucapan
Congratulations (Selamat)
Area Pengiriman

Bandung

Cimahi
Anda Juga Akan Menyukai: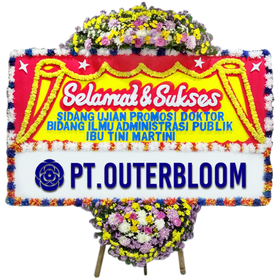 Spirit Of Eminance Bandung
Harga

Rp 700.000

Rp 485.000

30% OFF