Descriptions
Desain Terbaru dari Rangkaian Forever Flower Astoria
Bunga Mawar Super Premium Varian Warna Pastel Rainbow
Diawetkan dengan Proses Alami
Bertahan Hingga 3 Tahun
Display Cantik dalam Kotak Akrilik Bening dan Box Berdesain Modern
Diperindah dengan Pita Mewah
Dikemas dengan Pouch Eksklusif Outerbloom
Pilihan Hadiah Sempurna untuk Orang Tercinta





Specifications
Desain Terbaru dari Rangkaian Forever Flower Astoria
Bunga Mawar Super Premium Varian Warna Pastel Rainbow
Diawetkan dengan Proses Alami
Bertahan Hingga 3 Tahun
Display Cantik dalam Kotak Akrilik Bening dan Box Berdesain Modern
Diperindah dengan Pita Mewah
Dikemas dengan Pouch Eksklusif Outerbloom
Pilihan Hadiah Sempurna untuk Orang Tercinta
"For a love that breaks stereotypes. A kind of romance that is honest and fearless, without doubts."
Cinta abadi yang dilambangkan dengan The Novo Astoria - Pastel Rainbow kini bisa Anda dekap dekat di hati. Kagumi keindahan bunga mawar putih yang klasik, melambangkan cinta spesial yang tak lekang waktu.
Pastel Rainbow Rose adalah bunga pilihan yang dipetik oleh tangan para ahli bunga kami secara teliti, kemudian diawetkan melalui serangkaian proses alami sehingga bisa sampai di tangan Anda dalam kondisi sempurna, layaknya bunga segar yang mekar di taman. Dirangkai dengan indah di dalam kotak akrilik eksklusif, tunjukkan betapa murninya rasa cinta Anda kepada si dia yang spesial dengan The Novo Astoria - Pastel Rainbow.
| | |
| --- | --- |
| SKU | [C]OUTBUN1175 |
| Jenis dan Warna Bunga | Preserved Rose Warna Pastel Rainbow |
| Diameter Bunga | 10 cm |
| Ukuran Box | 11 cm x 11 cm x 11 cm |
As Seen Blooms in The Arms of:
Care Instructions
| | |
| --- | --- |
| | Do not remove the flower from their case |
| | Do not place anything on top of the case as they can crush the case and damage the flower inside |
| | Touch the flower gently and if required, clean with a soft brush |
| | Do not water the flower as using any water will immediately damage it |
| | Do not expose the flower to direct sunlight as UV light may cause color bleaching |
| | Keep the arrangement in a room temperature, humidity-free environment  |
Anda Juga Akan Menyukai: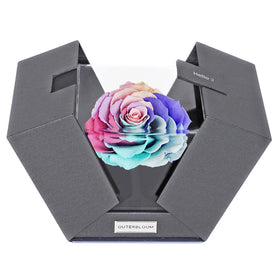 The Novo Astoria - Pastel Rainbow
Harga

Rp 1.314.000

Rp 985.000

25% OFF