Descriptions
Perpaduan Mewah Rangkaian Bunga dan Buah Segar
Terdiri dari Buah Anggur, Apel, Jeruk, dan Pir
Dipercantik dengan Bunga Mawar, Krisan, dan Filler
Tertata dalam Keranjang Berdesain Rustic
Bingkisan Sempurna untuk Kerabat Dekat
Cocok Sebagai Hadiah Ungkapan "Get Well Soon"
Hanya untuk Pengiriman Wilayah Jadetabek
Specifications
Perpaduan Mewah Rangkaian Bunga dan Buah Segar
Terdiri dari Buah Anggur, Apel, Jeruk, dan Pir
Dipercantik dengan Bunga Mawar, Krisan, dan Filler
Tertata dalam Keranjang Berdesain Rustic
Bingkisan Sempurna untuk Kerabat Dekat
Cocok Sebagai Hadiah Ungkapan "Get Well Soon"
Hanya untuk Pengiriman Wilayah Jadetabek
SKU
ASMPCL1108
Isi

Mawar

Krisan

Anggur

Apel

Jeruk

Pir
Anda Juga Akan Menyukai:
Ulasan dari konsumen
Tulis Ulasan
Tulis Pertanyaan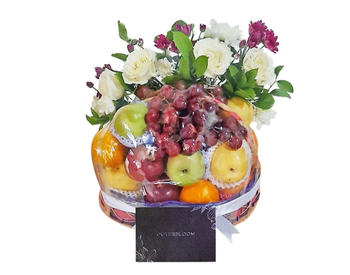 17 Feb 2023
Kemudahan pesanan di Outerbloom
Sudah bbrp x pesan hampers buah disini utk keperluan kantor, selalu fast respon, produknya cantik dan berkuakitas, delivery cepat... makasih yah
Henni I.

Indonesia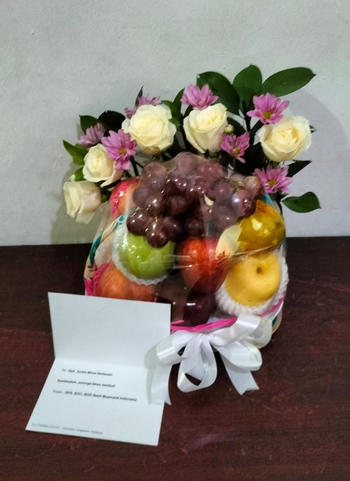 24 Agt 2022
Hampers buah outerbloom
Kami sudah beberapa kali melakukan pemesanan hampers buah melalui outerbloom. Semuanya memuaskan. Produk sesuai foto dan deskripsi, buahnya segar dan tampilannya cantik dengan bunga2, plus ada kartu ucapannya. Pengiriman jg cepat dan diterima tepat waktu. CS yg handle WA chatt sangat responsif, helpful dan ramah... terima kasih
Henni I.

Indonesia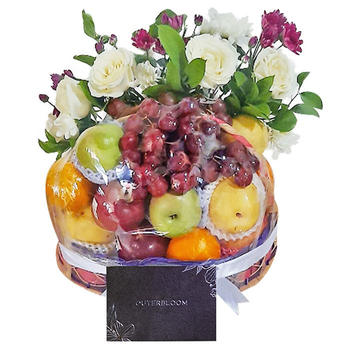 24 Des 2021
Bunga dan Buah
Rangkaian bunga dipadu buah, untuk keluarga yang bagus dan pengiriman super cepat terima kasih outerbloom
Penny S.

Indonesia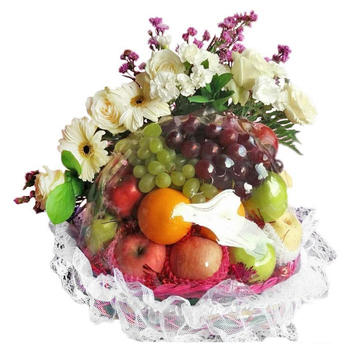 05 Mar 2021
Excellent service
Keep up the good work! Your products are in top quality, excellent professionalism and excellent service.
Juli W.

United Kingdom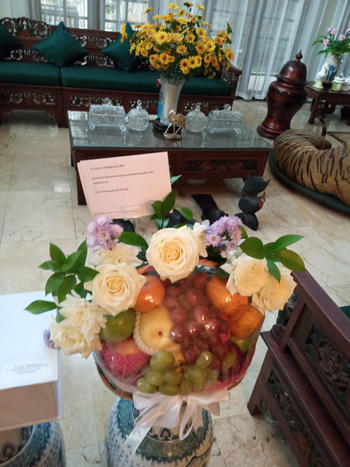 28 Des 2020
Elegant and Beautiful Gift
Produk sangat cantik, berkelas dan pelayanan cepat
Firda F.

Indonesia
10 Okt 2022
great service
fast response & fast delivery
kukuh p.

Indonesia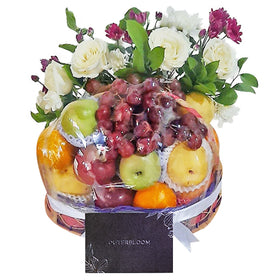 Luxe Wellness
Harga

Rp 625.000

Rp 585.000

6% OFF