Descriptions
Hadiah Terbaik untuk Orang yang Anda Kasihi
8 Tangkai Bunga Lilly dan Mawar Putih
Yang Berarti Kemurnian dan Keabadian
Pengiriman Hanya Untuk Wilayah Jakarta
Specifications
Hadiah Terbaik untuk Orang yang Anda Kasihi
8 Tangkai Bunga Lilly dan Mawar Putih
Yang Berarti Kemurnian dan Keabadian
Pengiriman Hanya Untuk Wilayah Jakarta
White Lily And Roses In Glass Vase, Bunga lilly mempunyai warna khusus yang indah sehingga cocok untuk hadiah kerabat terdekat anda khususnya orang tua anda atau pun kepada pasangan anda dilengkapi dengan bunga mawar putih menambah kesan elegant. Karena bunga lilly memiliki arti kemurnian dan kesucia sedangkan bunga mawar putih melambangkan keabadian. Di rangkai dalam satu keranjang yang indah dan elegant.
Berikan hand bouquet atau bunga dalam vas untuk orang terkasih Anda pada acara spesial seperti valentine's day, ulang tahun, wisuda, ataupun acara spesial Anda bersama Dia. Anda bisa menuliskan pesan pada note yang ingin Anda sampaikan ketika orang terkasih Anda menerima bunga tersebut. Pastinya Anda bisa membayangka betapa senangnya Dia ketika menerima bunga hand bouquet yang romantis bersama dengan note spesial yang Anda tinggalkan untuk dia.
Note : Tuliskan pesan anda di kolom "Special instructions for seller", dan Lakukan pemesanan dan pembayaran 2 hari sebelum pengiriman.
Tentang Indonesia Florist
Melihat banyak masyarakat yang sulit menemukan 24 jam toko pengiriman bunga dan kue terpercaya serta menjawab permintaan mengirim bunga, kue dan kado untuk orang yang mereka cintai. Hadir Indonesia Florist, sebuah toko bunga Jakarta dengan bunga-bunga pilihan terbaik menjadi sebuah rangkaian bunga. Indonesia Florist, toko bunga online untuk mempermudah pemesanan bunga dan kado bagi orang special Anda.
Informasi lainnya mengenai Indonesia Florist
Lihat Semua Produk Indonesia Florist >>
| | |
| --- | --- |
|  SKU | FLABUN1088 |
| Warna | Putih |
| Jumlah | 8 Tangkai |
Jual White Lily And Roses In Glass Vase, Temukan daftar harga Bunga unggulan lainnya di AsmaraKu.com. Dapatkan produk Bunga dengan harga murah dan pengiriman cepat hanya di toko online AsmaraKu.com
Outerbloom Florist Lainnya :
Customer Reviews
Write a Review
Ask a Question
08/09/2019
Fajar P.
Indonesia
Bagus puas
Respon cepat. Produk bagus
Good Services
The Flowers were good enough. The design was less creative but it was still acceptable. However, I was impressed with the service. They emailed me the delivery receipt and the picture of the flowers. Good Job.
Review terhadap produk Outerbloom
Saya memesan White Lily And Roses In Glass Vase. Yang saya terima : benar produk yang dimaksud, tetapi dalam kondisi yang mengecewakan : sudah terdapat banyak bintik-bintik coklat pada beberapa kelopak bunga, yang dapat dilihat dengan sangat jelas dengan kasat mata. Menandakan bunga-bunga tersebut bukan bunga-bunga segar, melainkan produk yang sudah beberapa hari tidak laku terjual. Bunga dengan kondisi seperti itu seharusnya tidak diberikan kepada konsumen. Saya SANGAT KECEWA.. Terimakasih.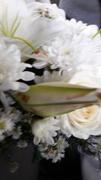 bunganya cantik dan wangi. cuma
bunganya cantik dan wangi. cuma kurang pitanya aja kemarin di vasnya, soalnya di gambarnya ada pita. but over all it's beautiful...
White Lily And Roses In Glass Vase
Harga

Rp 750.000

Rp 595.000

20% OFF