Descriptions
8 Mawar Putih, 2 Calla Lily, 3 Snap Dragon Putih, Hydrangea, Baby's Breath, dan Ruskus
Dikemas dalam Buket Warna Pink dan Putih + Pita yang Cantik 
Melambangkan Rasa Cinta, Ketulusan, dan Kasih Sayang 
Cocok Dikirimkan untuk Orang Tercinta di Hari Spesial
Hanya untuk Pengiriman ke Wilayah Jakarta (Free Shipping)
Specifications
8 Mawar Putih, 2 Calla Lily, 3 Snap Dragon Putih, Hydrangea, Baby's Breath, dan Ruskus
Dikemas dalam Buket Warna Pink dan Putih + Pita yang Cantik 
Melambangkan Rasa Cinta, Ketulusan, dan Kasih Sayang 
Cocok Dikirimkan untuk Orang Tercinta di Hari Spesial
Hanya untuk Pengiriman ke Wilayah Jakarta (Free Shipping)
Romantic Universe Sweet Pink persembahan Outerbloom menghadirkan 8 Mawar Putih, 2 Calla Lily, 3 Snap Dragon Putih, Hydrangea, Baby's Breath, dan Daun Ruskus. Dikemas dalam paper flower warna putih dan pink yang dipercantik dengan pita pink membuat buket bunga ini semakin terlihat manis.
Berikan Romantic Universe Sweet Pink untuk orang terkasih pada acara spesial seperti Hari Ibu, Anniversary, ulang tahun, wisuda, ataupun acara spesial Anda bersama kerabat dan keluarga. Ekspresikan keromantisan Anda terhadap pasangan, kerabat dan keluarga melalui buket bunga Romantic Universe Sweet Pink.
Tentang Outerbloom Florist
Outerbloom Florist adalah toko bunga yang didistribusikan oleh Outerbloom. Outerbloom Florist menyajikan bunga-bunga pilihan sehingga mampu membantu menyampaikan pesan yang tersirat di dalam setiap tangkainya. 
| | |
| --- | --- |
| SKU | OUFBUN1020 |
| Warna | Putih dan Hijau |
| Jumlah | 8 Mawar Putih, 2 Calla Lily, 3 Snap Dragon Putih, Hydrangea, Baby's Breath, dan Daun Ruskus |
Outerbloom Florist Lainnya :
Customer Reviews
Write a Review
Ask a Question
07/23/2019
Martinus H.
Indonesia
Puas
Bunga + wrap sesuai ekpestasi
Very beautiful flowers & good job done by the delivery person
I ordered the flowers from overseas for the 1st time thru Outerbloom. The flowers did sent to the specific location indicated by me. They took the photos of the flowers & the location they delivered. And the photos were sent to my private E-mail, with comments of what is happening there (in English). I am really appreciated that kind of services. Thank you very much. If opportunity allows, I will use your company services again. :)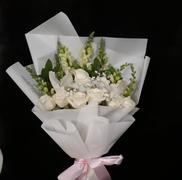 Puas dengan pelayanan Outerbloom
Saya puas dengan pembelian di outerbloom, selain respon nya cepat, sampainya tepat waktu dan jg handling complainnya sangat bagus. Terima kasih. Sukses trus..
Romantic Universe Sweet Pink
Harga

Rp 879.000

Rp 445.000

49% OFF