Descriptions
Reed Diffuser 50 ml
Dengan Berbagai Aroma Varian Rasa yang Menenangkan dan Membangkitkan Mood
Tahan sekitar 2-3 minggu
Dikemas Dengan Gaya Rustic
Ukuran Packaging: 27.5 cm x 9.5 cm x 5.5 cm
Specifications
Reed Diffuser 50 ml
Dengan Berbagai Aroma Varian Rasa yang Menenangkan dan Membangkitkan Mood
Tahan sekitar 2-3 minggu
Dikemas Dengan Gaya Rustic
Ukuran Packaging: 27.5 cm x 9.5 cm x 5.5 cm
Cara mudah untuk memanjakan diri Anda dalam wangi aroma alam. Terbuat dari citronelle oil yang dapat membantu Anda rileks setelah seharian beraktivitas.
Cara pakai:
Masukkan 3-5 stik kayu yang ada di box 

ke dalam botol diffuser. Diamkan selama beberapa menit agar minyak 

diffuser

 meresap ke dalam stik kayu.

Keluarkan stik kayu, putar 180 derajat dan masukkan kembali ke dalam botol. Pastikan saat ini bagian yg awalnya tercelup ke dalam berada di sisi luar dan sebaliknya.
Setelah beberapa menit, Anda akan mulai merasakan aroma alami dari

 

diffuser

.
 SKU
OUTDIF1002
Isi

Minyak Citronelle 50 ml

Stik Kayu
Outerbloom Lainnya :
Ulasan dari konsumen
Tulis Ulasan
Tulis Pertanyaan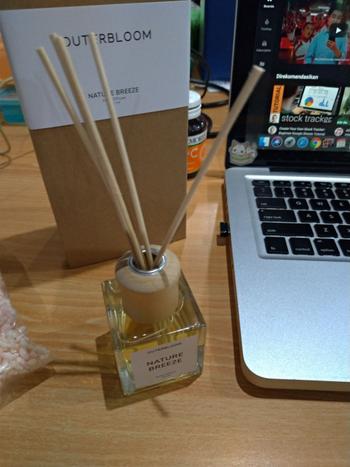 22 Nov 2019
wanginya enak
Produk berkualitas & pengirimannya cepat banget, bisa pakai Go-Send
Marketing A.

Indonesia
22 Apr 2021
Belum terima produk
Produk belum saya terima...
Rani P.

Indonesia
09 Mar 2020
Natural & soothing
Baunya enak banget & relaxing, sayangnya cepat habis (dalam seminggu).
Villy C.

Indonesia
31 Jan 2020
love it!!
udh biasa beli di Outerbloom untuk produk bunga, dan skrg nyoba Reed Diffuser nya, and I quite like the scent of it. it's actually quite comforting for me that not such a big fan of perfume. Thank you so much
Mariani O.

Indonesia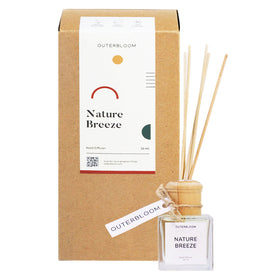 Outerbloom Nature Breeze Reed Diffuser
Harga

Rp 250.000

Rp 185.000

26% OFF