Descriptions
Hadiah Terbaik untuk Orang yang Anda Kasihi
21 Tangkai Bunga Liliy, Bunga Daisy, dan Bunga Gerbera
Yang Berarti Cinta dan Kasih Sayang
Pengiriman Hanya Untuk Wilayah Jakarta
Specifications
Hadiah Terbaik untuk Orang yang Anda Kasihi
21 Tangkai Bunga Liliy, Bunga Daisy, dan Bunga Gerbera
Yang Berarti Cinta dan Kasih Sayang
Pengiriman Hanya Untuk Wilayah Jakarta
Lilies With Assorted Daisies And Gerberas In A Vase, Bunga lily mempunyai warna khusus yang dipadukan dengan bunga daisy dan garbera sehingga cocok untuk hadiah kerabat terdekat anda khususnya orang tua anda atau pun kepada pasangan anda. Ketiga bunga tersebut dirangkai khusus dengan vas sehingga sangat terlihat elegant dan cantik apabila diletakan di sudut ruangan rumah.
Berikan hand bouquet atau bunga dalam vas untuk orang terkasih Anda pada acara spesial seperti valentine's day, ulang tahun, wisuda, ataupun acara spesial Anda bersama Dia. Anda bisa menuliskan pesan pada note yang ingin Anda sampaikan ketika orang terkasih Anda menerima bunga tersebut. Pastinya Anda bisa membayangka betapa senangnya Dia ketika menerima bunga hand bouquet yang romantis bersama dengan note spesial yang Anda tinggalkan untuk dia.
Note : Tuliskan pesan anda di kolom "Special instructions for seller", dan Lakukan pemesanan dan pembayaran 2 hari sebelum pengiriman.
Tentang Outerbloom Florist
Outerbloom Florist adalah toko bunga yang didistribusikan oleh Outerbloom. Outerbloom Florist menyajikan bunga-bunga pilihan sehingga mampu membantu menyampaikan pesan yang tersirat di dalam setiap tangkainya. 
| | |
| --- | --- |
|  SKU | OBVBUN1145 |
| Warna | Oranye, Pink, Putih, dan Kuning |
| Jumlah | 21 Tangkai |
Outerbloom Florist Lainnya :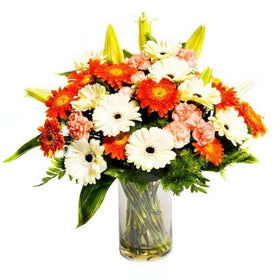 Lilies With Assorted Daisies And Gerberas in Vase
Harga

Rp 995.000

Rp 895.000

10% OFF