Descriptions
Bunga Mawar Pink Mempunyai Arti Kesungguhan
6 Tangkai Bunga Mawar Pink 
Cocok di Berikan Kepada Kekasih Atau Kerabat Anda
Specifications
Bunga Mawar Pink Mempunyai Arti Kesungguhan
6 Tangkai Bunga Mawar Pink 
Cocok di Berikan Kepada Kekasih Atau Kerabat Anda
"Untuk pengiriman wilayah Semarang bunga yang dikirimkan 6 tangkai Bunga Mawar Pink"
6 Pink Roses With Cordyline Foliage Bouquet, Bunga mawar pink yang dipadukan menjadi satu buket sangat ideal sekali dengan simbol keabadian. Yang terdiri bunga mawar pink dirangkai khusus dengan kertas pembungkus yang cantik dan unik. Anda bisa berikan 6 Pink Roses With Cordyline Foliage Bouquet kepada orang terkasih anda atau kerabat anda.
Berikan hand bouquet untuk orang terkasih Anda pada acara spesial seperti valentine's day, ulang tahun, wisuda, ataupun acara spesial Anda bersama Dia. Anda bisa menuliskan pesan pada note yang ingin Anda sampaikan ketika orang terkasih Anda menerima bunga tersebut. Pastinya Anda bisa membayangka betapa senangnya Dia ketika menerima bunga hand bouquet yang romantis bersama dengan note spesial yang Anda tinggalkan untuk dia.
| | |
| --- | --- |
| SKU | |
| Warna | Pink |
| Jumlah | 6 Tangkai |
Outerbloom Florist Lainnya :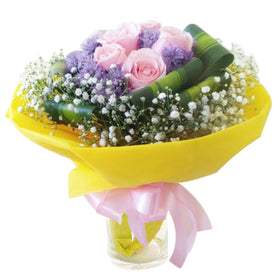 6 Pink Roses With Cordyline Foliage Bouquet
Harga

Rp 550.000

Rp 345.000

37% OFF