Descriptions
Hadiah Terbaik untuk Orang Yang Anda Kasihi
24 Tangkai Bunga Mawar Merah dan Pink
Yang Berarti Cinta dan Kesungguhan
Specifications
Hadiah Terbaik untuk Orang Yang Anda Kasihi
24 Tangkai Bunga Mawar Merah dan Pink
Yang Berarti Cinta dan Kesungguhan
2 Dozen Of Red And Pink Roses In A Glass Vase, Bunga mawar merah dan pink dilengkapi dengan penghias bunga dan dirangkai indah di dalam vas cocok untuk hadiah kerabat terdekat Anda. Dirangakai secara indah dan menarik dalam vas dihias unik dan cantik sehingga menjadikan momen anda amat terkesan ketika Anda memberikannya kepada kekasih atau kerabat anda. Dalam satu rangkaian terdiri dari 2 jenis mawar yaitu mawar merah dan pink yang di rangkai cantik dengan penghias dalam satu vas.
Berikan hand bouq35uet atau bunga dalam vas untuk orang terkasih Anda pada acara spesial seperti valentine's day, ulang tahun, wisuda, ataupun acara spesial Anda bersama Dia. Anda bisa menuliskan pesan pada note yang ingin Anda sampaikan ketika orang terkasih Anda menerima bunga tersebut. Pastinya Anda bisa membayangka betapa senangnya Dia ketika menerima bunga hand bouquet yang romantis bersama dengan note spesial yang Anda tinggalkan untuk dia.
| | |
| --- | --- |
| SKU | |
| Warna | Merah dan Pink |
| Jumlah | 24 Tangkai  |
Outerbloom Florist Lainnya :
Ulasan dari konsumen
Tulis Ulasan
Tulis Pertanyaan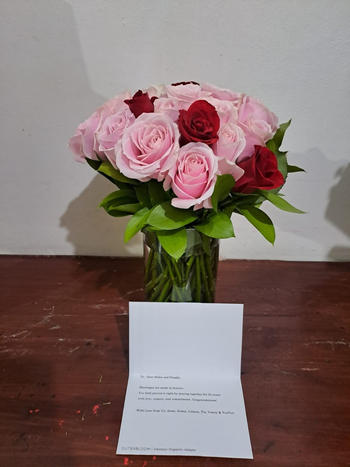 10 Jul 2023
Beli bunga itu mudah
Semakin mudah untuk mengirimkan bunga ke seluruh Indonesia.
INDRA G.

Indonesia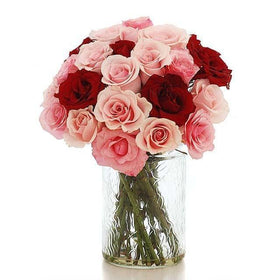 2 Dozen Of Red And Pink Roses in Vase
Harga

Rp 650.000

Rp 495.000

23% OFF