Descriptions
Perpaduan Mewah Rangkaian Bunga dan Buah Segar
Kombinasi Buah-buahan Segar: Anggur, Apel, Jeruk, dan Pir
Dihiasi dengan Bunga Mawar dan Anyelir yang Cantik
Tampil Cantik dalam Keranjang Anyaman Berkualitas
Penyampaian Pesan "Get Well Soon" yang Penuh Kasih Sayang
Hanya untuk Pengiriman Wilayah Jadetabek

Specifications
Perpaduan Mewah Rangkaian Bunga dan Buah Segar
Kombinasi Buah-buahan Segar: Anggur, Apel, Jeruk, dan Pir
Dihiasi dengan Bunga Mawar dan Anyelir yang Cantik
Tampil Cantik dalam Keranjang Anyaman Berkualitas
Penyampaian Pesan "Get Well Soon" yang Penuh Kasih Sayang
Hanya untuk Pengiriman Wilayah Jadetabek

Bearing Well Wishes adalah kado yang sempurna untuk mengirimkan pesan "cepat sembuh" atau berbagi kebahagiaan dalam momen spesial. Dalam keranjang anyaman berkualitas tinggi, kami menyajikan kombinasi buah-buahan segar pilihan, termasuk anggur yang segar, apel yang renyah, jeruk yang menyegarkan, dan pir yang lembut. Setiap buah dipilih dengan cermat untuk memberikan rasa yang tak tertandingi.
Tetapi yang membuat Bearing Well Wishes begitu istimewa adalah hiasan bunga yang mempesona. Mawar dan anyelir dengan warna-warna yang cantik, menambah keindahan keranjang ini. Ini bukan hanya hadiah, ini adalah penyampaian pesan "Get Well Soon" yang penuh kasih sayang. Jadi, berikan kebahagiaan dan kesembuhan dengan Bearing Well Wishes dari Outerbloom!
SKU
ASMPCL1109
Isi

Mawar

Anyelir

Anggur

Apel

Jeruk

Pir

Ukuran
 30 cm x 20 cm
Anda Juga Akan Menyukai:
Ulasan dari konsumen
Tulis Ulasan
Tulis Pertanyaan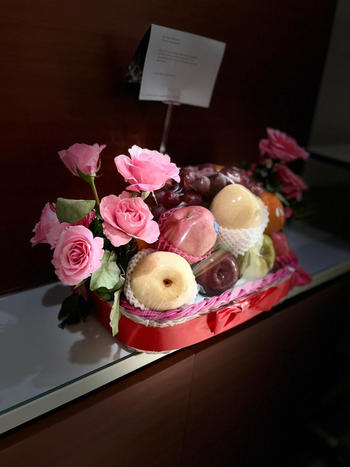 15 Jul 2021
Pelayanan dan Pengiriman cepat
Pembelian produk sangat sederhana flownya, sehingga memudahkan kita sebagai customer untuk melakukan transaksi, dan barang di deliver sesuai waktu yang kita pilih serta kualitas barang sesuai dan bagus buahnya
Benny R.

Indonesia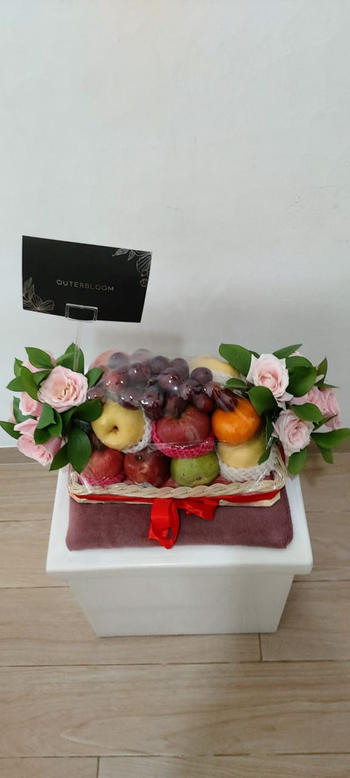 08 Mar 2021
Bearing Well Wishes
sesuai foto, cantik dan segar baik buah ataupun bunganya. puas order disini
Anita C.

Indonesia
27 Nov 2023
Humi E.

Indonesia
19 Okt 2022
Memuaskan
Bagus dan sesuai dengan gambar
Tria R.

Indonesia
19 Agt 2022
The best!
malem2 aku butuh parcel dikirim hari H dan bener2 aku WA outerbloom nya , walaupun diluar jam kerja (7malem) , tapi sangat membantu dan dikirim dong malam itu juga. udah model parcel nya bagus2, admin WA nya juga gercep dan very helpful, pokoknya i will definitely recommend outerbloom to my friends. Thanks!
Oktavianus H.

Indonesia
28 Mar 2021
Good service and fast
Pelayanannya sangat baik dan cepat, buah2an nya segar dan manis juga bunganya fresh.Amazing service and fast, thank you
Lud L.

Indonesia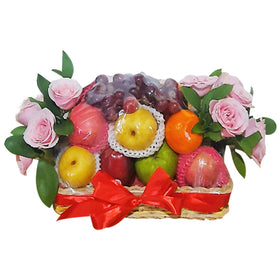 Bearing Well Wishes
Harga

Rp 625.000

Rp 585.000

6% OFF