Descriptions
Rangkaian Mawar, Hydrangea, Dried Flowers, dan Greeneries yang Mewah

Dirangkai Indah dalam Vas Kaca Premium
Melambangkan Kasih Sayang yang Tulus
Hadiah Terbaik untuk Orang Terkasih
Cocok untuk Momen Spesial seperti Valentine, Ulang Tahun, Anniversary, dll
Pengiriman Hanya Untuk Wilayah Jakarta
Specifications
Rangkaian Mawar, Hydrangea, Dried Flowers, dan Greeneries yang Mewah

Dirangkai Indah dalam Vas Kaca Premium
Melambangkan Kasih Sayang yang Tulus
Hadiah Terbaik untuk Orang Terkasih
Cocok untuk Momen Spesial seperti Valentine, Ulang Tahun, Anniversary, dll
Pengiriman Hanya Untuk Wilayah Jakarta
Berikan kejutan spesial kepada orang terkasih dengan Pinking of You in Vase. Perpaduan sempurna dari Mawar, Hydrangea, Dried FLowers, dan Greeneries ini menyiratkan pesan kasih sayang dan perhatian yang tulus. Dirangkai cantik dalam vas kaca premium membuat bunga meja ini sangat cocok sebagai ungkapan perhatian pada perayaan spesial apa pun.
Isi


Mawar

Hydrangea

Dried Flowers

Greeneries

Premium Glass Vase

Ukuran
20 x 20 cm, tinggi 35 cm
Outerbloom Florist Lainnya :
Ulasan dari konsumen
Tulis Ulasan
Tulis Pertanyaan
Filter Reviews:
ordering flowers
Outerbloom
flowers
price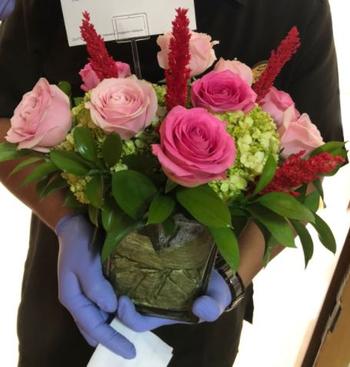 02 Sep 2021
I Love Outerbloom, it's always reliable.
Never disappointed ordering flowers from Outerbloom. Beautifully arranged, delivered in time, reasonable price. Have received flowers from Outerbloom too that other ordered for me, and they are nice and good. Thank you.
Widhya

Indonesia
10 Agt 2023
Beautiful flower for special day
Bunganya segar, diantar tepat waktu. Arrangementnya cantik, pilihan bunganya keren…
Agustina S.

Indonesia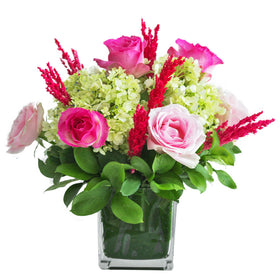 Pinking of You in Vase
Harga

Rp 693.000

Rp 485.000

30% OFF