Descriptions
Kreasi sarang burung walet yang dikemas dalam bentuk bunga cantik
Varian Bunga: Carnation (Anyelir)
Profil Rasa: Vanilla Bean
Ingredients: Bird's Nest, Vanilla Bean, Chinese Almond, Rock Sugar
Dikemas dalam packaging foil untuk menjaga kualitas dan rasa terbaik
Tanpa bahan pengawet dan zat aditif


Specifications
Kreasi sarang burung walet yang dikemas dalam bentuk bunga cantik
Varian Bunga: Carnation (Anyelir)
Profil Rasa: Vanilla Bean
Ingredients: Bird's Nest, Vanilla Bean, Chinese Almond, Rock Sugar
Dikemas dalam packaging foil untuk menjaga kualitas dan rasa terbaik
Tanpa bahan pengawet dan zat aditif
Biji vanili terbaik menambah aroma harum dan unik ke dalam racikan almond yang kaya rasa. Diperkaya dengan karakter vanilla yang menenangkan, Vanilla Bean Bloom adalah kenikmatan yang sempurna untuk memanjakan diri setelah menjalani hari penuh stres dan aktivitas padat.
Take a spoonful of our Bloom, enjoy, and relax.
Khasiat kesehatan: Kaya antioksidan dan merupakan sumber vitamin B seperti niacin, thiamin, vitamin B6, dan pantothenic acid.
Khasiat kecantikan: Membantu merawat kesehatan kulit dan memperlambat tanda-tanda penuaan seperti kerutan halus dan flek. Vanilla juga dipercaya dapat membantu mengurangi kecemasan.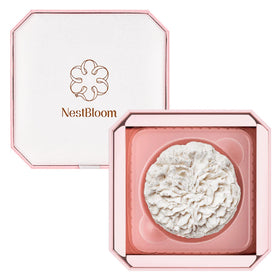 NestBloom Gift Box of Vanilla Bean Bloom
Harga

Rp 535.000

Rp 165.000

69% OFF