Specifications
Buket Bunga Meja dari Outerbloom

Perpaduan Sempurna yang terdiri atas Rose Pink, Krisan, Padi-Padian, dan Daun

Dirangkai Indah menjadi Satu Kesatuan
Diletakkan dalam Vas Kaca Premium

Hadiah Terbaik bagi Orang Terkasih

Cocok sebagai Ungkapan Ucapan Selamat

Melengkapi Perayaan Momen Spesial apapun, seperti Hari Valentine, Ulang Tahun, Anniversary, dan Hari Suka Cita lainnya
Berikan kejutan kepada orang terkasih dengan Fantasia in Vase dari Outerbloom. Perpaduan sempurna yang terdiri atas Rose Pink, Krisan, Padi-Padian, dan Daun, menyiratkan pesan kasih sayang. Dirangkai indah menjadi satu kesatuan, lalu diletakkan dalam vas kaca premium. Buket bunga meja bernuansa warna merah muda ini cocok sebagai ungkapan ucapan selamat untuk melengkapi perayaan momen spesial apapun, seperti hari valentine, ulang tahun, anniversary, dan hari suka cita lainnya.

SKU
OBVBUN1799
Isi
5x Rose Pink
Krisan
Padi-Padian
Daun

Ukuran
Outerbloom Florist Lainnya :
Ulasan dari konsumen
Tulis Ulasan
Tulis Pertanyaan
Filter Reviews:
organising
guidance
support
bouquet
flowers
friends
13 Agt 2022
Beautiful bunch of flowers, full, fresh and just perfect
Thank you so much for your support and guidance in organising, delivering and ensuring this beautiful bouquet of flowers was perfect for my friends. Highly recommended.
Anne-Marie L.

Australia
16 Okt 2023
Fantasia in vase
Terima kasih. Bunganya bagus. Sesuai dgn gambar
Arlainne A.

Indonesia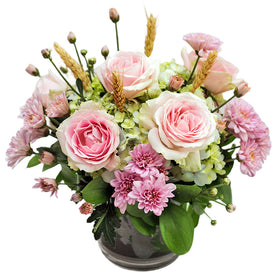 Fantasia in Vase
Harga

Rp 645.000

Rp 495.000

23% OFF