Descriptions
Limited Edition
Koleksi cantik dari ForeverFlower.
ForeverFlower adalah koleksi premium Outerbloom yang terbuat dari bunga mawar asli dan bertahan sampai 3 tahun ke atas.
Bunga kualitas premium mawar diimpor langsung dari Ekuador.
Dikemas dengan gold-plated glass terrarium yang premium
Warna : Classic Pink 





Specifications
Limited Edition
Koleksi cantik dari ForeverFlower.
ForeverFlower adalah koleksi premium Outerbloom yang terbuat dari bunga mawar asli dan bertahan sampai 3 tahun ke atas.
Bunga kualitas premium mawar diimpor langsung dari Ekuador.
Dikemas dengan gold-plated glass terrarium yang premium
Warna : Classic Pink 
Setiap bunga memiliki bahasa yang unik. Mawar Classy Pink menunjukkan romansa hati yang menawan dan mampu memikat hati orang lain.
Tunjukkan cinta Anda kepada seseorang spesial dengan Crystal Florarium Classy Pink. Mawar Classy Pink adalah bunga pilihan yang dipetik dengan tangan para ahli bunga kami secara teliti, kemudian diawetkan melalui serangkaian proses alami sehingga bisa sampai di tangan Anda dalam kondisi sempurna, layaknya bunga segar yang mekar di taman. Ditata dengan indah dan dikemas dalam terrarium segi lima berdesain minimalis, ukir perjalanan cinta Anda dengan Crystal Florarium Classy Pink.
SKU
[C]OUTBUN1043
Jenis dan Warna Bunga
Preserved Rose Warna

Classy Pink

Diameter Bunga
10 cm
Ukuran Terrarium
16 x 18 cm
As Seen Blooms in The Arms Of:
Care Instructions
| | |
| --- | --- |
| | Do not remove the flower from their case |
| | Do not place anything on top of the case as they can crush the case and damage the flower inside |
| | Touch the flower gently and if required, clean with a soft brush |
| | Do not water the flower as using any water will immediately damage it |
| | Do not expose the flower to direct sunlight as UV light may cause color bleaching |
| | Keep the arrangement in a room temperature, humidity-free environment  |
Outerbloom Lainnya :
Customer Reviews
Write a Review
Ask a Question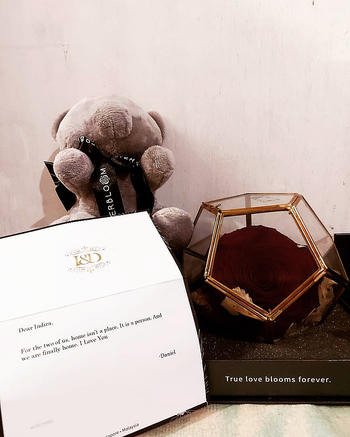 13 Agt 2020
Forever Rose
Bunganya sepertinya sudah lama dan tidak segar lagi... Tolong dijelaskan rinci kondisi barang yg akan mau dijual..apakah sudah lama parkir digudang..
ABANG U.

Indonesia
29 Okt 2021
Joko

Indonesia
10 Sep 2019
The best as always!
I bought this for my thesis advisor as a thank you gift, and She's so speechless with the gift because she's not expect it that the rose is huge than the ordinary one. She loves the color because it's unique and it can last longer than 3 years under a great care. Thank you for the great service, and fast delivery as always. Always recommend it to my friends.
22 Mei 2019
wow
lucu banget skdfsgsgslgsklgblkg
01 Mei 2019
Pembelian bunga
Produk bagus dan pengiriman cepat. Top deh pokoknya
12 Mar 2019
Produk Sesuai dengan Deskripsi
Produk yang diterima dalam keadaan baik, sesuai dengan yang ada di detail produk.
11 Mar 2019
Sangat memuaskan!
Produk Outerbloom sangat baik & berkualitas premium. Waktu itu saya pesan cukup mendadak, namun staff Outerbloom dapat segera mengirimkan pesanan saya dengan cepat. Terima kasih! ❤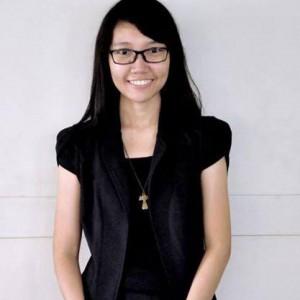 RA
Rizki A.
21 Des 2018
puas, istri saya suka
bunganya bagus, hand made, dan yang paling penting, istri saya sangat suka dengan packaging dan bunganya, thank you outerbloom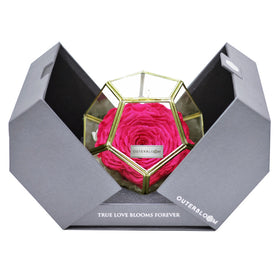 Crystal Florarium - Classy Pink
Harga

Rp 1.800.000

Rp 1.285.000

28% OFF