Descriptions
Rangkaian Mawar, Hydrangea, Baby Breath, Greeneries, dan Branches yang Mewah

Dirangkai Indah dalam Vas Keramik Premium
Melambangkan Kasih Sayang yang Tulus
Hadiah Terbaik untuk Orang Terkasih
Cocok untuk Momen Spesial seperti Valentine, Ulang Tahun, Anniversary, dll
Pengiriman Hanya Untuk Wilayah Jakarta
Specifications
Rangkaian Mawar, Hydrangea, Baby Breath, Greeneries, dan Branches yang Mewah

Dirangkai Indah dalam Vas Keramik Premium
Melambangkan Kasih Sayang yang Tulus
Hadiah Terbaik untuk Orang Terkasih
Cocok untuk Momen Spesial seperti Valentine, Ulang Tahun, Anniversary, dll
Pengiriman Hanya Untuk Wilayah Jakarta
Berikan kejutan spesial kepada orang terkasih dengan Bravery Rosy in Vase. Perpaduan sempurna dari Mawar, Hydrangea, Baby Breath, Greeneries, dan Branches ini menyiratkan pesan kasih sayang dan perhatian yang tulus. Dirangkai cantik dalam vas keramik premium membuat bunga meja ini sangat cocok sebagai ungkapan perhatian pada perayaan spesial apa pun.
Isi


Mawar, Hydrangea, Baby Breath, Greeneries, dan Branches

Ceramic Vase

Ukuran
60 x 60 cm, tinggi 100 cm
Outerbloom Florist Lainnya :
Customer Reviews
Write a Review
Ask a Question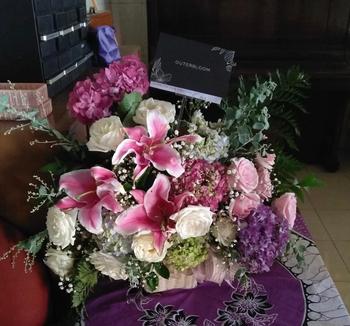 01 Feb 2022
Flowers arrived wilted, tulip out of stock
Ordered online for delivery to Yogyakarta for my aunt's birthday because of the tulips. Got a whatsapp telling me the 3 tulips are out of stock and they're going to replace it with 6 white roses. First of all, if your rarest flower in your bouquet that fetch the premium price is out of stock, you don't offer basic flowers to replace it, either pick something equally special or kindly refund either partially or wholly. I asked for pink hydrangea instead of the 6 roses cause time constraints and they complied. I should have asked for a refund and choose something else because the end result, for some reason, looks like the some of the flowers have wilted already. Especially the eucalyptus. It doesn't look fresh. Don't pick the luxury bouquet for delivery outside of Jabodetabek. The quality is hit and miss. This time, it's a miss, not worth the premium price. The speedy customer service is commendable. Sadly, the end bouquet just falls short of expectation. My aunt still loves it but I know they could be so much better, definitely not worth the pretty penny.
Asih J.

Singapore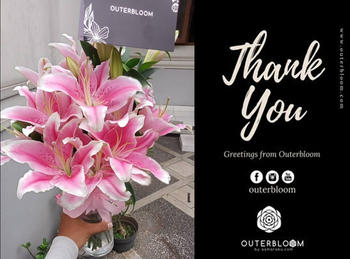 30 Jan 2022
Beautiful
Ordered the flowers for relatives in Jakarta. The lilies looked beautiful although a bit pricey,
Lisa C.

United States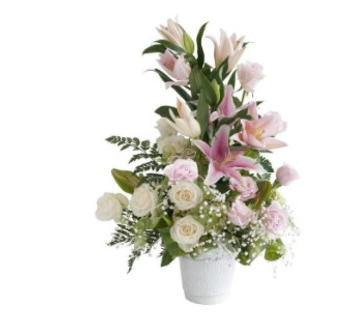 27 Jan 2022
Pink & White Exquisite in Vase
Hasilnya sangat CANTIIKKK.. Outerbloom memang terbaik. Semua rangkaiannya cantik. Pengiriman tepat dan on time.
Stevani Y.

Indonesia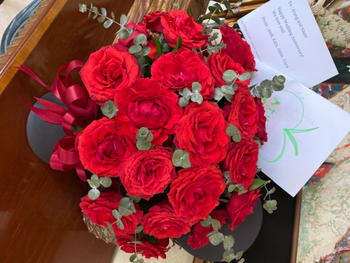 17 Jan 2022
Passion Rouge Bloom Box
Excellent flower arrangements, very high quality.
Kara G.

Indonesia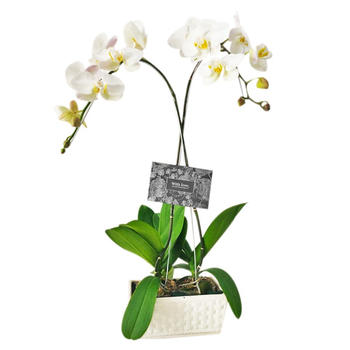 08 Jan 2022
Trustable flowers delivery in JKT
Allways happy with Outerbloom service.
PhP P.

Indonesia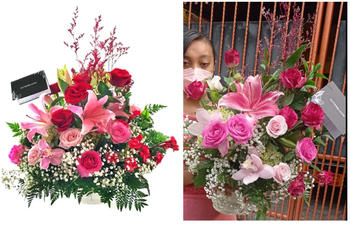 30 Des 2021
Not The Same :o(
The flower arrangement is not the same as the picture on the website. There was plenty of empty space in between flowers. It's pricey for this level of quality.
Lisa C.

United States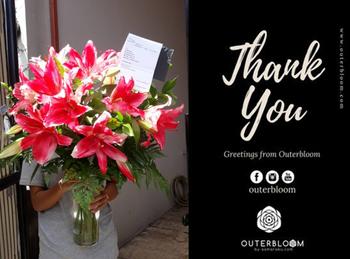 26 Des 2021
Breath-taking....!!!
The lilies are huge and beautiful. Delivery was on time. Will definitely order again. Thank you, Outerbloom.
Lisa

United States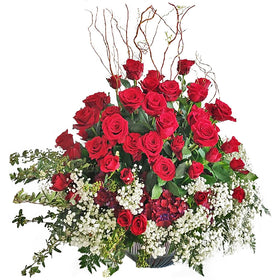 Bravery Rosy in Vase
Harga

Rp 4.125.000

Rp 2.885.000

30% OFF