Descriptions
Eau De Toilette
Dengan Aroma Fruits dan Floral
Ketahanan 5 - 6 Jam
Specifications
Eau De Toilette
Dengan Aroma Fruits dan Floral
Ketahanan 5 - 6 Jam
Benetton Lets Fly Men EDT - 100 mL resmi diluncurkan pada tahun 2013. Aroma maskulin dengan sensasi adrenalin yang memuaskan ambisi pria muda, juga memberikan kesegaran dan kenikmatan aroma sejuk. Benetton Lets Fly Men EDT - 100 mL sangat cocok di gunakan untuk aktivitas sehari - hari. 
Eau De Toilette
Benetton Lets Fly Men EDT - 100 mL merupakan Eau De Toilette dengan aroma Modern fougere, aquatic, woody dan ambery merepresentasikan jiwa kaum muda yang semangat. Cocok digunakan untuk pria muda. 
Top Notes : Oxygen Accord, Bergamot, Clementina and Watermelon
Middle Notes : Marine Notes, Lavender and Geranium
Base Notes : Cedar, Musk and Amber.
Tahan Lama
Benetton Lets Fly Men EDT - 100 mL akan memberikan sensasi kesegaran yang tahan lama sampai 5 - 6 jam. Nikmati sensasi segar dan tahan lama sepanjang hari. 
Tentang Benetton
Benetton memiliki 57 parfum dengan fragrance dasar yang melegenda sejak 1987. Benetton menyasar pasar orang dewasa dan anak-anak dalam menjalankan Selective Beauty mereka. Fragrance pertama Benetton adalah Colors de Bennetton untuk pria dan wanita.  Dan di distribusikan oleh Favo yang merupakan distributor untuk parfum original lainnya.
Informasi lainnya mengenai Benetton
Lihat semua produk Benetton
| | |
| --- | --- |
| SKU | BENPAR1005 |
| Ukuran | 100 mL |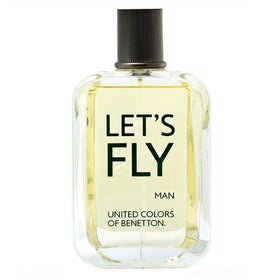 Benetton Lets Fly Men EDT - 100 mL
Harga

Rp 500.000

Rp 445.000

11% OFF