Descriptions
7 Tangkai Anggrek Bulan
Dirangkai Menggunakan Vas Putih yang Elegan
Mewakili Kejujuran, Kesucian, dan Ketulusan
Cocok Diberikan pada Orang Terkasih
Specifications
7 Tangkai Anggrek Bulan
Dirangkai Menggunakan Vas Putih yang Elegan
Mewakili Kejujuran, Kesucian, dan Ketulusan
Cocok Diberikan pada Orang Terkasih
Ekspresikan ketulusan cinta Anda melalui Luxury White Rose in Vase. Rangkaian bunga berisi tujuh tangkai bunga anggrek bulan di dalam vas cantik ini melambangkan kejujuran, kesucian, dan ketulusan. Cocok untuk hadiah pada saat ulang tahun, anniversary, ataupun pada saat hari Valentine. 
Cara Merawat Anggrek

Tempatkan anggrek dalam suhu ruang yang sejuk atau ruangan ber-AC

Jangan taruh anggrek di area yang terkena sinar matahari langsung

Siram anggrek setiap 2 hari di bagian permukaan pot (media tanam) atau gunakan biogel

Potong tangkai anggrek yang sudah layu & sisakan 5 cm dari tangkainya
Syarat & Ketentuan Anggrek
Tingkat kemekaran bunga anggrek akan berbeda antara satu dengan lainnya dan akan menyesuaikan dengan ketersediaan stok

Warna pada bunga anggrek tidak bisa sama persis antara satu dengan yang lainnya dan akan menyesuaikan dengan ketersediaan stok

Kami akan memastikan anggrek yang Anda terima dalam keadaan fresh dan kondisi terbaik
| | |
| --- | --- |
| Warna | Putih |
| Jumlah | 7 tangkai Anggrek Bulan |
Outerbloom Florist Lainnya :
Ulasan dari konsumen
Tulis Ulasan
Tulis Pertanyaan
Filter Reviews:
green
contrast
request
Orchid
flowers
service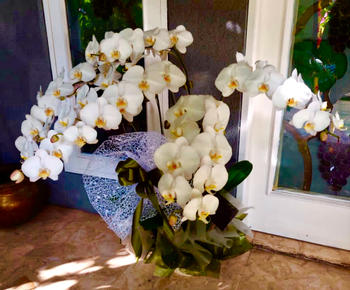 17 Apr 2021
Beautiful Orchid Flower Arrangement
My mom loves Orchid And this is very creative arrangement Thanks for making it possible for the flower to be delivered right on time even with last minute request.
Sarah R.

United States
25 Sep 2023
7 Luxury White Anggrek in Vase
The flowers arrived on time and looking very fresh with the contrast of white , dark and light green. Thank you for the excellent service!
Temay S.

United States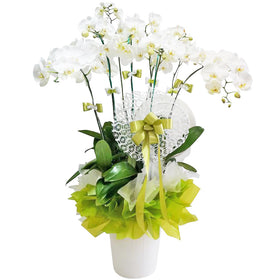 7 Luxury White Anggrek in Vase
Harga

Rp 3.572.000

Rp 2.495.000

30% OFF