Descriptions
2 Lili dan 12 Mawar
Dihiasi

 6

 Chrysant,

 3

 Hydrangea, Daun, dan Babys Breath
Standing Vase
Melambangkan Kekaguman, Kehangatan, dan Rasa Sayang
Cocok untuk Dikirimkan Kepada Orang Tercinta
Melayani Pengiriman Untuk Seluruh Daerah Jakarta
Specifications
2 Lili dan 12 Mawar
Dihiasi

 6

 Chrysant,

 3

 Hydrangea, Daun, dan Babys Breath
Standing Vase
Melambangkan Kekaguman, Kehangatan, dan Rasa Sayang
Cocok untuk Dikirimkan Kepada Orang Tercinta
Melayani Pengiriman Untuk Seluruh Daerah Jakarta
Ekspresikan rasa sayang Anda melalui Signature Lillies With Rose And Hydrangea kepada orang tercinta. Perpaduan antara 2 lili dan 12 mawar yang diletakkan di vas putih ini menyimbolkan kekaguman, kehangatan, serta rasa sayang. Anda pun dapat menyampaikan pesan-pesan tersebut melalui rangkaian bunga yang dibuat handmade dan profesionaloleh ahlinya ini.
Tentang Outerbloom Florist
Outerbloom Florist adalah toko bunga yang didistribusikan oleh Outerbloom. Outerbloom Florist menyajikan bunga-bunga pilihan sehingga mampu membantu menyampaikan pesan yang tersirat di dalam setiap tangkainya. 
 SKU
ASMBUN1137
Warna
Ungu dan Putih
Jumlah
2 Lili dan 12

 

Mawar, Bbay Breath, Crysant
Anda Juga Akan Menyukai: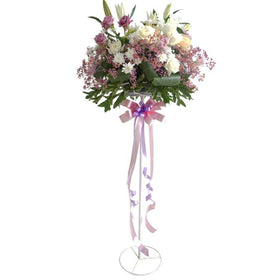 Signature Lillies With Rose And Hydrangea
Harga

Rp 858.000

Rp 585.000

31% OFF