Descriptions
Special Rose Box from Outerbloom
Carefully Hand Picked by Flower Expert
Super Premium Short Stem Roses Cut to Perfection
With Ribbon and Card
JAKARTA (Free Shipping) DETABEK (with Shipping Fee)




Specifications
Special Rose Box from Outerbloom
Carefully Hand Picked by Flower Expert
Super Premium Short Stem Roses Cut to Perfection
With Ribbon and Card
JAKARTA (Free Shipping) DETABEK (with Shipping Fee)
A smile is the key that fits the lock of everybody's heart. Make sure your loved one can smile brightly with Letter Box Classic - Fiery Red!
Exclusive Rose Box
Exclusive Rose Box dengan ukuran 13x15x24 cm dilengkapi magnet pada salah satu sisinya.
Premium Roses
Mawar kualitas premium dipilih langsung oleh ahlinya. Setiap prosesnya pun dilakukan dengan sangat hati-hati guna menjaga kesegaran bunga dalam waktu lama.
Card
Designed by Mr. Roger Kho. Put your pen to paper as evidence and proof your love!
| | |
| --- | --- |
| SKU | [C]ASMBUN1090 |
| Jumlah Bunga | 8-10 Tangkai |
| Jenis dan Warna Bunga | Mawar Merah |
| Ukuran Box Bunga | 13x15x24 cm |
As Seen Blooms in The Arms of:
Anda Juga Akan Menyukai: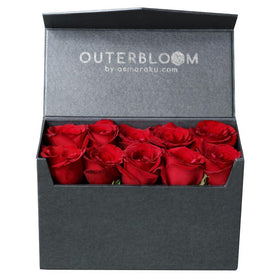 Letter Box Classic - Fiery Red
Harga

Rp 750.000

Rp 485.000

35% OFF