Descriptions
Buku Komik
Dapat Custom Maksimal 30 Foto, Teks di Kotak Dialog dan Pesan di Halaman Awal
Disusun dengan Estetik, lalu Diberi Efek Gambar Komik dan Kotak Dialog
32 Halaman Full Color (16 Lembar)
Proses Pre Order (PO) selama 5-7 Hari Kerja
Hadiah Terbaik bagi Pasangan, Sahabat, atau pun Keluarga
Cocok untuk Berbagai Perayaan, seperti Hari Ulang Tahun, Anniversary, dan Valentine
Specifications
Buku Komik
Dapat Custom Maksimal 30 Foto, Teks di Kotak Dialog dan Pesan di Halaman Awal
Disusun dengan Estetik, lalu Diberi Efek Gambar Komik dan Kotak Dialog
32 Halaman Full Color (16 Lembar)
Proses Pre Order (PO) selama 5-7 Hari Kerja
Hadiah Terbaik bagi Pasangan, Sahabat, atau pun Keluarga
Cocok untuk Berbagai Perayaan, seperti Hari Ulang Tahun, Anniversary, dan Valentine
Sempurnakan hari spesial orang terkasih dengan koleksi hadiah "Custom Comic Book for Special Moment - 16 Pages" yang unik dan personal. Buku komik yang menarik untuk dibaca. Anda dapat mengabadikan momen spesial bersama orang terkasih menjadi kisah petualangan di dalam buku komik hanya dengan custom maksimal 30 foto sesuka hati yang akan disusun dengan estetik, lalu diberi efek gambar komik dan kotak dialog. Cocok untuk berbagai perayaan, seperti hari ulang tahun, anniversary, dan Valentine yang membawa kebahagiaan.

Catatan

Dapat custom teks di kotak dialog dan pesan di halaman awal.
Spesifikasi

32 halaman full color (16 lembar).
Jumlah foto maksimal 30 foto, layout menyesuaikan foto.
Proses pre order (PO) selama 5-7 hari kerja.
Tentang The First

The First adalah merek produk fesyen dan kado yang memiliki desain menarik. Kini, didistribusikan oleh Outerbloom dengan beragam produk pilihan lainnya.
| | |
| --- | --- |
| SKU | THFGIF2728 |
| Halaman | 32 Halaman Full Color (16 Lembar) |
Anda Juga Akan Menyukai: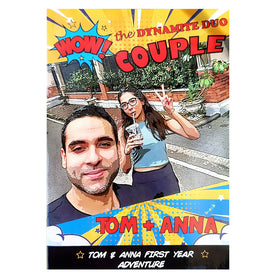 Custom Comic Book for Special Moment - 16 Pages
Harga

Rp 450.000

Rp 385.000

14% OFF