Descriptions
Kreasi sarang burung walet yang dikemas dalam bentuk bunga cantik
Varian Bunga: Chrysanthemum
Profil Rasa: Chinese Almond Premium
Ingredients: Bird's Nest, Chinese Almond, Rock Sugar
Dikemas dalam packaging foil untuk menjaga kualitas dan rasa terbaik
Dilengkapi Ritual Bowl, Glass Spoon, dan NestBloom Hourglass
Tanpa bahan pengawet dan zat aditif


Specifications
Kreasi sarang burung walet yang dikemas dalam bentuk bunga cantik
Varian Bunga: Chrysanthemum
Profil Rasa: Chinese Almond Premium
Ingredients: Bird's Nest, Chinese Almond, Rock Sugar
Dikemas dalam packaging foil untuk menjaga kualitas dan rasa terbaik
Dilengkapi Ritual Bowl, Glass Spoon, dan NestBloom Hourglass
Tanpa bahan pengawet dan zat aditif
Welcome to the NestBloom Single Ritual Kit. Paket hadiah yang sempurna untuk diri Anda atau orang tersayang dalam menikmati momen penuh relaksasi bersama NestBloom. Dengan Single Ritual Kit, Anda akan menemukan rahasia kulit sehat dan tampak lebih muda.
NestBloom Single Ritual Kit Original Almond Bloom terdiri dari Original Almond Bloom, yang mengandung almond terbaik dan gula batu alami, menghasilkan varian rasa original yang menjadi favorit untuk ritual self-pampering.
Semua perlengkapan Ritual 100%

 

handcrafted

. Ritual Bowl dibuat dari

 

borosilicate crystal

 

yang tahan suhu panas sehingga melindungi tangan Anda. Di dalam setiap mangkuknya, terdapat tanda 5-titik untuk menandakan kadar air yang dibutuhkan. Lekukan mangkuk didesain untuk mempertegas aroma Bloom, sehingga indera Anda akan dimanjakan sejak dari proses penyeduhan Bloom.
Menandakan durasi 5 menit, NestBloom Hourglass memberikan momen relaksasi untuk menghirup aroma Bloom yang terseduh dalam ritual

 

self-pampering

 

Anda, bahkan sebelum Anda mengonsumsinya.

Dan, Ritual Glass Spoon didesain khusus untuk menghadirkan takaran cita rasa yang pas di setiap suapnya.
Relax and enjoy your Ritual.
Khasiat: Almond kaya akan serat, protein, dan vitamin E, serta membantu mengurangi kadar gula darah, tekanan darah, dan kolesterol; juga membantu dalam proses penurunan berat badan.
NestBloom Single Ritual Kit Original Almond Bloom terdiri dari:
1 x Original Almond Bloom

1 x Ritual Bowl

1 x Ritual Glas Spoon

1 x Ritual Hourglass
Anda Juga Akan Menyukai: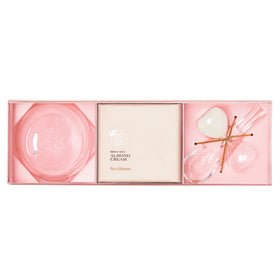 NestBloom Single Ritual Kit Original Almond Bloom
Harga

Rp 1.085.000

Rp 485.000

55% OFF