Descriptions
Paket Snack Box "Tea Bun Combo"
Perpaduan 1 Flavored Tea: Rosella Lemon Tea/Butterfly Pea with Lemon/Ginger Butterfly Pea + 2 Bread: Walnut Choco/Double Choco/Black Choco Ban/Cinnamon Bread/Long Cheese/Cheese Bomb
Terbuat dari Bahan-Bahan Natural Premium Berkualitas Tinggi sebagai Pilihan yang Lebih Sehat
Selalu Fresh From The Oven Setiap Hari
No Preservatives: TANPA Menggunakan Pengawet
Cocok untuk Diberikan ke Orang Terdekat yang Melengkapi Perayaan Momen Suka Cita Apapun, seperti Ulang Tahun, Anniversary, dan Hari-Hari Lainnya
Hanya Melayani Pengiriman untuk Area di Jakarta dan Tangerang
Specifications
Paket Snack Box "Tea Bun Combo"
Perpaduan 1 Flavored Tea: Rosella Lemon Tea/Butterfly Pea with Lemon/Ginger Butterfly Pea + 2 Bread: Walnut Choco/Double Choco/Black Choco Ban/Cinnamon Bread/Long Cheese/Cheese Bomb
Terbuat dari Bahan-Bahan Natural Premium Berkualitas Tinggi sebagai Pilihan yang Lebih Sehat
Selalu Fresh From The Oven Setiap Hari
No Preservatives: TANPA Menggunakan Pengawet
Cocok untuk Diberikan ke Orang Terdekat yang Melengkapi Perayaan Momen Suka Cita Apapun, seperti Ulang Tahun, Anniversary, dan Hari-Hari Lainnya
Hanya Melayani Pengiriman untuk Area di Jakarta dan Tangerang
Ceriakan suasana hati Anda dan orang terdekat dengan menikmati "Tea Bun Combo" yang menjadi mood booster dalam menjalani aktivitas sehari-hari! Perpaduan 1 Flavored Tea: Rosella Lemon Tea/Butterfly Pea with Lemon/Ginger Butterfly Pea + 2 Bread: Walnut Choco/Double Choco/Black Choco Ban/Cinnamon Bread/Long Cheese/Cheese Bomb. Terbuat dari bahan-bahan natural premium berkualitas tinggi sebagai pilihan yang lebih sehat, selalu fresh from the oven setiap hari untuk memastikan cita rasa yang spesial. Anda dapat menghidangkan Paket Snack Box ini sebagai camilan untuk menemani waktu istirahat sejenak. Cocok untuk diberikan ke orang terdekat yang melengkapi perayaan momen suka cita apapun, seperti ulang tahun, anniversary, dan hari-hari lainnya. No preservatives: TANPA menggunakan Pengawet, masukkan ke dalam chiller untuk masa penyimpanan produk yang lebih lama.

Aneka Pilihan Flavored Tea

Rosella Lemon Tea
Butterfly Pea with Lemon
Ginger Butterfly Pea
Aneka Pilihan Bread

Walnut Choco mengombinasikan Sweet Bun dengan Walnuts dan Chocochips, ditambah sedikit adonan Cookie | Ingredients: Butter, Chocochips, Flour, Milk Powder, Salt, Sugar, Yeast, Yolk Walnut.
Double Choco dengan isian Chocochips yang meleleh, terlihat seperti lava di dalam sarang roti | Ingredients: Cocoa Powder, Chocochip, Eggs, Flour, Salt, Sugar, Yeast.
Black Choco Ban dengan isian Chocolate yang meleleh dan Banana untuk memberikan sentuhan manis alami di dalam Charcoal Buns | Ingredients: Butter, Charcoal, Eggs, Flour, Milk, Sugar, Yeast.
Cinnamon Bread memiliki ukuran yang lebih panjang daripada Cinnamon Roll dengan taburan gula di atasnya | Ingredients: Eggs, Unbutter, Flour, Sugar, Yeast, Milk, Cinnamon Sugar.
Long Cheese dengan isian Sweet Cream Cheese yang gurih.
Cheese Bomb mengombinasikan Wholeweat Bread spesial dengan isian Cheese yang meleleh, ditambah sedikit rempah-rempah.
SKU
FRBKUE1005
Isi
1 Flavored Tea: Rosella Lemon Tea/Butterfly Pea with Lemon/Ginger Butterfly Pea
2 Bread: Walnut Choco/Double Choco/Black Choco Ban/Cinnamon Bread/Long Cheese/Cheese Bomb (@40 g)

Anda Juga Akan Menyukai: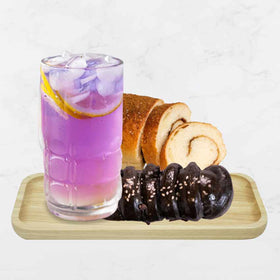 Tea Bun Combo
Harga

Rp 65.000

Rp 46.000

29% OFF